Summer has finally arrived. Today the weather was beautiful and I have no doubt all the beaches in the Netherlands were packed. I wanted to go to the beach but I didn't want to fight the crowd. Today is the first weekend that you can really enjoy being on the beach since the water is warm enough to swim in, unless you like to swim in cold water. Tomorrow I will definitely go to the beach when the crowd is gone. I don't need a sun tan at the moment but I want to see the sun goes down and breath the evening sea air.
So rather than going out and enjoying the great outdoor, I've been sitting here updating the Gallery at Laomusic.nu. There is a cool flash gallery now but it's a pain to add the photos to the albums. I have to upload the pics one by one and post them one by one. I can do a batch upload but I still have to create separate thumbnail files. So what else can I do, just crank up the music and take it easy. I'm taking a break from posting the pics at the moment because I found out I didn't upload a pic that was supposed to be posted at number 25th in the Black Flame's album. Doh! What is there to do now but to go back and post that pic and make sure I have all of them in order or just skip that pic and save myself the trouble?
Moving on to a different subject. I called home a few hours ago to check in on my siblings and make sure they are doing fine. My parents are out of town at the moment attending a Southern Baptist Conference for the weekend. I wish I could have been there with them like last year but I couldn't afford to go home at the moment. I had a great time while I was there and met many wonderful people from the Lao Baptist Youth group. The only bad part was getting a sunburn on my nose, hahaha.
A nice view from the cafeteria on the last day of the conference.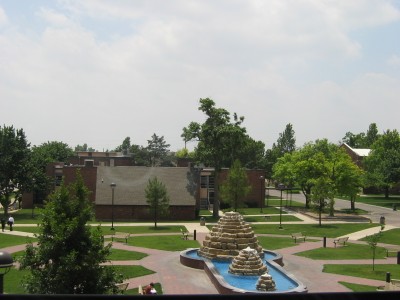 A tradition that I didn't take part in. I had my good shoes on. 🙂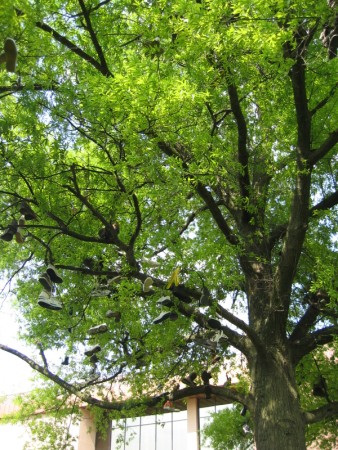 I'm more than happy to report back to my parents tomorrow night that my siblings have been doing fine. They didn't need me to be there as babysitter. They are not throwing a party either so I can sleep with no worry tonight.